Loki: PLEX Pirate
0
0
40 Views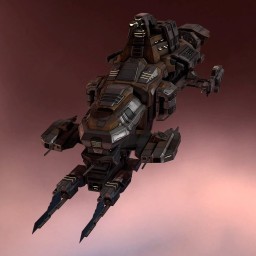 Modulename
I use this Loki fitting daily to both run exploration combat sites in high/low/nullsec, and to pew-pew the people I find running them. It's rather expensive, yes, but I live in a Class-5 wormhole, and as such ISK is not a problem.
I run this setup with the AY-2 and MX-2 implants, and all stats reflect this.
Stats (normal / overheated):
DPS w/Barrage: 404 / 464 @ 40~km
DPS w/Hail: 565 / 650 @ 15~km
DPS w/Repub Fleet: 506 / 582 @ 30~km
+100 DPS from Hob II's
Resists: 93 / 89 / 83 / 86
Tank: 956 / 1202 / 1556 (norm/invulns/+booster)
Cap: Stable @ 40%, 10m53s with OH booster
Speed: 774 / 1043m/s
EHP: 44.2k / 52.7k
Sig radius: 143m
This ship has a pretty crazy tank, and combined with its tiny sig radius, it means you'll most likely be able to handle anything a mission runner/PLEX'er can throw at you, as well as easily handling the sites themselves.
The 30km points (36km OH) usefulness is questionable, as often PLEX runners simply sit still and tank it, so you'll warp in right on top of them, but is handy for catching those who like to move around the site, and are a little further away from you when you land on-grid. All modules can of-course be swapped for T2/high-meta, but the tank and gank (and price) is greatly reduced.
If you really want to get a ridiculous tank, you can add a set of HG Crystals or HG Halos.
With HG Crystals, you get a 1468 DPS tank, which increases to 1847 DPS when you overheat the invulns, or a whopping 2390 DPS when you overheat the invulns and the booster.
With HG Halos, your signature becomes 113, which greatly increases the amount of incoming damage you'll receive. If either of these are used, it is possible to swap the Damage Control II for another Repub Fleet Gyrostab, bringing your DPS up to 644/740 with Hail.
This fitting was based on and inspired by
http://www.youtube.com/watch?v=9vMsUYZuHVw
, however has been optimized for higher DPS, tank, and functionality. Credit where credit is due, however, I wouldn't be flying this had I not seen that video.
Comments, feedback, criticism, etc welcomed and encouraged. Thanks in advance!
Targeting
| | | |
| --- | --- | --- |
| | Maximum targets | 5 |
| | Maximum targeting range | 62.5 km |
| | Scan resolution | 375 |
| | Sensor strength | 0 17 0 0 |
Size/Movement
| | | |
| --- | --- | --- |
| | Maximum velocity | 797.03 |
| | Inertia modifier | 0.3375 |
| | Signature radius | 130 m |
| | Cargo capacity | 0 m3 |
Systems
| | | |
| --- | --- | --- |
| | Capacitor capacity | 2750 GJ |
| | Capacitor recharge time | 2 minutes 42 seconds |
| | Powergrid | 902 / 937.5MW |
| | CPU | 625.75 / 481.25 tf |
Shields
| | | |
| --- | --- | --- |
| | Shield capacity | 4000 |
| | Shield recharge time | 20 minutes 22 seconds |
| | Shield resistances | 93.09% 86.18% 83.41% 88.94% |
Armor
| | | |
| --- | --- | --- |
| | Armor hit points | 2687.5 |
| | Armor resistances | 91.5% 23.5% 36.25% 72.38% |
Structure
| | | |
| --- | --- | --- |
| | Structure hit points | 2013.75 |
| | Structure resistances | 60% 60% 60% 60% |
| | Drone bandwidth | 25 Mbit/sec |
| | Drone control range | 0 m |
Drones
| | | |
| --- | --- | --- |
| | Drone capacity | 50 m3 |
Download EVEMon Skill Plan
[Loki, Loki: PLEX Pirate]
Damage Control II
Republic Fleet Gyrostabilizer
Republic Fleet Gyrostabilizer
Republic Fleet Tracking Enhancer

Federation Navy 10MN Afterburner
Republic Fleet Warp Disruptor
Caldari Navy Adaptive Invulnerability Field
Caldari Navy Adaptive Invulnerability Field
Gist X-Type Large Shield Booster
Gist B-Type Shield Boost Amplifier

425mm AutoCannon II
425mm AutoCannon II
425mm AutoCannon II
425mm AutoCannon II
425mm AutoCannon II
Sisters Expanded Probe Launcher

Medium Capacitor Control Circuit I
Medium Capacitor Control Circuit II
Medium Projectile Ambit Extension II

Loki Defensive - Adaptive Shielding
Loki Electronics - Emergent Locus Analyzer
Loki Propulsion - Fuel Catalyst
Loki Offensive - Projectile Scoping Array
Loki Engineering - Capacitor Regeneration Matrix

Hobgoblin II
Hornet EC-300

Item
Quantity
Value
Loki
1
156,989,000
Damage Control II
1
467,386
Hobgoblin II
1
414,715
425mm AutoCannon II
5
1,099,000
Barrage M
1
123
Hail M
1
115
Federation Navy 10MN Afterburner
1
28,400,000
Republic Fleet Gyrostabilizer
2
57,000,000
Republic Fleet Warp Disruptor
1
138,399,000
Republic Fleet Tracking Enhancer
1
83,001,000
Caldari Navy Adaptive Invulnerability Field
2
290,000,000
Gist X-Type Large Shield Booster
1
240,220,000
Gist B-Type Shield Boost Amplifier
1
62,889,000
Republic Fleet Phased Plasma M
1
643
Hornet EC-300
1
4,113
Sisters Expanded Probe Launcher
1
10,627
Loki Defensive - Adaptive Shielding
1
36,124,000
Loki Electronics - Emergent Locus Analyzer
1
40,346,000
Loki Propulsion - Fuel Catalyst
1
42,999,500
Loki Offensive - Projectile Scoping Array
1
32,403,900
Loki Engineering - Capacitor Regeneration Matrix
1
40,501,000
Sisters Combat Scanner Probe
1
437,000
Medium Capacitor Control Circuit I
1
1,389,910
Medium Capacitor Control Circuit II
1
14,654,200
Medium Projectile Ambit Extension II
1
6,199,490
Total
1,625,345,722